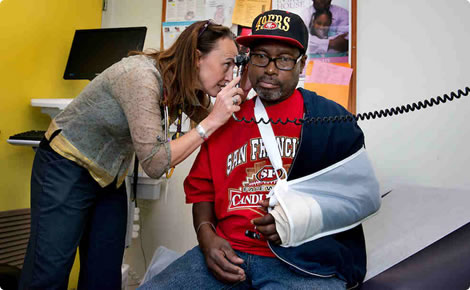 During the first two weeks after release from prison, individuals are at a 12 times increased risk of death compared to the general population:
We want to understand why this is the case and, in partnership with former prisoners, identify concrete and sustainable ways to use healthcare as a means to help recently released individuals live healthy and productive lives on the outside.
We support our clinics and the communities they serve in performing their own evaluations by providing trainings and CBPR.
The Transitions Clinic Network's research activities are funded by a Health Care Innovation Award from the Centers for Medicare and Medicaid Innovation. Our current work focuses on a prospective cohort of returning prisoners who we have engaged in primary care at our 14 clinical sites.
Participants are all individuals who have been released from prison within the last six months and have at least one chronic medical condition and/or are over the age of 50. Each patient is paired with a community health worker with a prior history of incarceration who assists them with healthcare system navigation and social services, a clinician who has experience caring for former inmates, and is given quick access to primary care upon release. We want to figure out the best ways to improve the value in healthcare utilization after release from prison and to determine whether early referral to primary care from prison is more effective than referral once the patient has been released. Through supportive communication and assistance, the TCN's evaluation team encourages constant quality improvement in the clinical activities at all sites.
SPOTLIGHT: Research by Aaron Fox, MD
Dr. Aaron Fox is the Co-Director of the Montefiore Transitions Clinic in the Bronx, NY. His article, describing the TCN program at Montefiore, was recently published in the Journal of Health Care for the Poor and Underserved.
Dr. Fox and his colleagues provide a detailed account of Montefiore's unique program, including its history, how it receives referrals from state prisons, and the activities of the site's dedicated community health worker. The sociodemographic and health characteristics for Transitions Clinic patients seen in the Bronx between 2009 and 2013 is provided.
To read Dr. Fox's full article, please click here .
Recent Publications 
1. Fox AD, Anderson MR, Bartlett G, Valverde J, MacDonald RF, Shapiro LI, Cunningham CO. A Description of an Urban Tansitions Clinic Serving Formerly Incarcerated People. Journal of Health Care for the Poor and Underserved. 2014 Feb; 25(1); 376-82.
2. Wang EA, Zhu GA, Evans L, Carroll-Scott A, Desai R, Fiellin LE. A pilot study examining food insecurity and HIV risk behaviors among individuals recently released from prison. AIDS education and prevention: official publication of the International Society for AIDS Education. 2013; 25(2), 112-23.
3. Wang EA, Hong CS, Shavit S, Sanders R, Kessell E, Kushel MB. Engaging individuals recently released from prison into primary care: a randomized trial. Am J Public Health. 2012 Sep; 102(9):e22-9. PubMed
Recent Presentations 
2014: Academic & Health Policy Conference on Correctional Health "Exploring Experiences of Formerly Justice-Involved Community Healthcare Workers." (Precious Bedell, Community Health Worker)
2014: Academic and Health Policy Conference on Correctional Health "Untangling the Barriers to Ethical Communication Between Correctional and Community Health" (Dr. Shira Shavit, Executive Director)
2014: Vera Institute of Justice "Ethics of Information Sharing: Connecting Community Health and Criminal Justice Symposium" (Dr. Shira Shavit)
2014: Columbia University, "The Public Health Approach to Incarceration: Opportunities for Action" (Dr. Emily Wang, Co-Founder)