TCN's evidence-based care model for returning community members is guided by research from 

the University of California San Francisco and Yale.
A randomized controlled trial at the flagship TCN clinic site in San Francisco found that people leaving incarceration with chronic conditions can be engaged in primary care, with the tailored TCN intervention resulting in a

51% reduction in overall emergency room utilization in a year compared with patients in standard primary care.

[1] 

A propensity-matched study utilizing data from the New Haven TCN site found that TCN participants had

lower criminal justice system costs

compared to participants who received care as usual, participants'

Medicaid costs were similar

, and each dollar invested in the TCN program

yields $2.55 back to the state.

[2]

 

A propensity-matched study at the TCN site in New Haven found that the TCN model

reduces patients' preventable hospitalizations by half

,

shortens hospitalizations by almost one full day

, and reduces technical violations of parole and probation resulting in

25 fewer incarceration days in the first year after release.

[3]

 

A study at the Santa Clara TCN site found that attendance at the first medical appointment following jail release

increased from 30 to 70 percent when patients met with a community health worker with lived experience of incarceration prior to their release.

[4]



Citations
1. Wang, E. A., Hong, C. S., Shavit, S., Sanders, R., Kessell, E., & Kushel, M. B. (2012). Engaging Individuals Recently Released From Prison Into Primary Care: A Randomized Trial. American Journal of Public Health, 102(9), e22–e29. https://doi.org/10.2105/ajph.2012.300894
2. Harvey, T. D., Busch, S. H., Lin, H.-J., Aminawung, J. A., Puglisi, L., Shavit, S., & Wang, E. A. (2022). Cost savings of a primary care program for individuals recently released from prison: a propensity- matched study. BMC Health Services Research, 22(1). https://doi.org/10.1186/s12913-022-07985-5
3. Wang, E. A., Lin, H., Aminawung, J. A., Busch, S. H., Gallagher, C., Maurer, K., Puglisi, L., Shavit, S., Frisman, L. (2019). Propensity-matched study of enhanced primary care on contact with the criminal justice system among individuals recently released from prison to New Haven. BMJ Open, 9(5), e028097. https://doi.org/10.1136/bmjopen-2018-028097
4. Santa Clara Valley Medical Center. (2015). Administrative data reported by Dr. Ari Kriegsman
Evaluation & Quality Improvement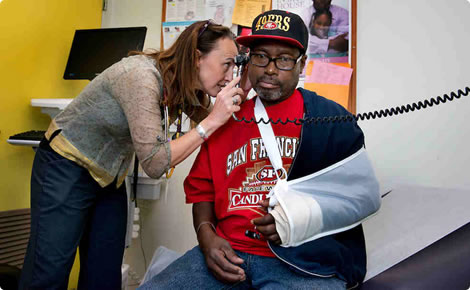 During the first two weeks after release from prison, individuals are at a 12 times increased risk of death compared to the general population:
We want to understand why this is the case and, in partnership with former prisoners, identify concrete and sustainable ways to use healthcare as a means to help recently released individuals live healthy and productive lives on the outside.
We support our clinics and the communities they serve in performing their own evaluations by providing trainings and CBPR. The Transitions Clinic Network's research activities are funded by a Health Care Innovation Award from the Centers for Medicare and Medicaid Innovation. Our current work focuses on a prospective cohort of returning prisoners who we have engaged in primary care at our 14 clinical sites.
Participants are all individuals who have been released from prison within the last six months and have at least one chronic medical condition and/or are over the age of 50. Each patient is paired with a community health worker with a prior history of incarceration who assists them with healthcare system navigation and social services, a clinician who has experience caring for former inmates, and is given quick access to primary care upon release. We want to figure out the best ways to improve the value in healthcare utilization after release from prison and to determine whether early referral to primary care from prison is more effective than referral once the patient has been released. Through supportive communication and assistance, the TCN's evaluation team encourages constant quality improvement in the clinical activities at all sites.
SPOTLIGHT: Research by Aaron Fox, MD
Dr. Aaron Fox is the Co-Director of the Montefiore Transitions Clinic in the Bronx, NY. His article, assessing the relationship between solitary confinement and post-traumatic stress disorder, was published in the Journal of Urban Health in 2017.
Utilizing data from Transitions Clinic Network's multi-site study, Dr. Fox and his colleagues, found that solitary confinement was significantly associated with PTSD symptoms among individuals accessing primary care following release from prison. 
To read Dr. Fox's full article, please click here. This article was also featured in Newsweek.
Recent Publications 
1. Wang EA, Lin H, Aminawung JA, Busch SH, et al. Propensity-matched study of enhanced primary care on contact with the criminal justice system among individuals recently released from prison to New Haven. BMJ Open. 2019;9:e028097. doi:10.11.

2. Hagan B, Wang EA, Aminawung JA, Fox AD., et al.  History of solitary confinement is associated with post-traumatic stress disorder symptoms among individuals recently released from prison. Journal of Urban Health. 2017: 95: 141. 
3. Shavit S, Aminawung JA, Birnbaum N, et al. Transitions Clinic Network: challenges and lessons in primary care for people released from prison. Health Affairs. 2017: (6):1006-1015.
Recent Presentations 
2018: Minnesota Community Health Worker Alliance Statewide Conference--New Horizons in Community Health: Thriving at the Forefront of Health Transformation "Keynote Presentation" (Dr. Shira Shavit, Executive Director and Joseph Calderon, Community Health Worker),
2018: National Association of Community Health Centers Policy & Issues Forum "Transforming the Healthcare System in Partnership with Justice-Involved Individuals " (Dr. Shira Shavit, Executive Director)
2014: Vera Institute of Justice "Ethics of Information Sharing: Connecting Community Health and Criminal Justice Symposium" (Dr. Shira Shavit)
2014: Columbia University, "The Public Health Approach to Incarceration: Opportunities for Action" (Dr. Emily Wang, Co-Founder)